10 Reasons To Use a Telematics Program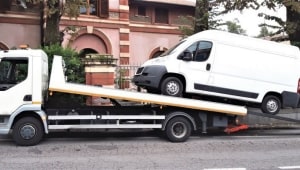 By now, most fleet owners and drivers may have heard that you need a telematics program to comply with the Electronic Logging Device (ELD) mandate. But several companies operating vehicles may not know that there are other benefits that can come from implementing a telematics program. Telematics devices wirelessly transmit vehicle performance data to help companies monitor a wealth of data points. Companies can look at the data across their entire fleet or at the individual vehicle level.
Here are 10 reasons companies should use Telematics
1. Improve Operational Efficiency – When driver and vehicle performance is being monitored, many companies see operators use the trucks in compliance with company safety standards.
2. Reduce Operating Costs – Telematics devices report things like "idle time" which is a large contributor to fuel waste. A telematics program can also help dispatch managers route the nearest driver to a call or destination or help drivers avoid traffic congestion.
3. Monitor Safety Execution – Managers can use telematics data to see how acceleration, rapid braking and other risky behaviors can impact their driver's safety. Data can help managers reward drivers who meet safety benchmarks. This result can help reduce accidents and downtime.
4. Optimize Vehicle Performance – Telematics devices can send alerts to the driver or managers when the engine needs service. This aspect of the program lets a company plan out of service needs and replacement vehicles.
5. Schedule Maintenance - As with the previous, alerts can help companies track mileage and predict when trucks need to be taken out of service for preventative maintenance, ensuring that routine needs are not neglected.
6. Streamline Compliance – Telematics devices gives companies the ability to comply with the ELD Mandate by electronically recording Hours of Service along with inspection logs for drivers.
7. Increase Job Satisfaction – Electronic logs help provide drivers with a transparent view of their day and schedule. This gives drivers more control over their work load in a partnership with dispatchers and managers.
8. Employee Retention – Telematics data can be used by Managers and Trainers to help develop scorecards and performance-based incentives while on the road. This promotes more connectivity to a corporate office for drivers who may have historically felt removed.
9. Data Security – By using telematics devices and programs, less data is shared to personal devices via unsecure means.
10. Save Administrative Time – Most telematics providers have online software that is easy to access and view, reducing time spent to analyze data and creating reports. 
Enterprise Truck Rental Solution:
Telematics Programs – driving behavior trends can be monitored through simple telematics devices highlighting instances of rapid acceleration and harsh braking which may indicate a need for safety education and training. Learn more about the benefits and features of a Geotab Telematics Program for your vehicles and drivers.
Article Source: https://www.fleetowner.com/
             
Universal Fuel Card Provider and Phillips 66 Extend Agreement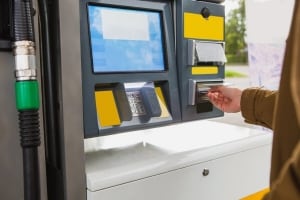 Phillips 66 signed a multi-year agreement with Universal Fuel Management provider, WEX. This agreement extends an agreement that's been in place since 2010. WEX Card users, which includes fleet companies, independent operators, and dealers, will continue to have access to more than 7,000 Phillips 66 locations in the United States.
Phillips 66 said that their "relationship with WEX has allowed [them] to leverage [their] strong brand presence in-market by combining it with WEX's superior program flexibility."
WEX continually works to innovate and may the payment process easier at the pump for drivers and will offer and test benefits with the Phillips 66 stations as their partnership continues.
Enterprise Truck Rental Solutions:
Enterprise Truck Rental offers customers access to a Universal Fuel Management program through WEX that gives companies control and security with fuel related expenses. The expansive participating fuel partner network that WEX offers gives drivers convenience and flexibility they need while on the road. 
Article Source: https://www.worktruckonline.com/
             We Sell Our Trucks, Too: In the market for a medium-duty or commerical grade truck? 
As a mobility and transportation expert, we understand that your business needs may require you to buy a truck. Enterprise has nationwide inventory of late-model well-maintained, commercial vehicles to fit your needs. 
Search our inventory by the truck classes we offer: 
 Pickup Trucks and Heavy-duty Pickups
Enterprise Solution:
Enterprise has inventory across the country of our used, well-maintained commercially equipped vehicles. If you're in the market for a used commercial vehicle and want to speak to our Sales Staff about finding the right one to fit your needs, call us at 1 877 4-trk-sales (1-877-487-5725) or Contact Us.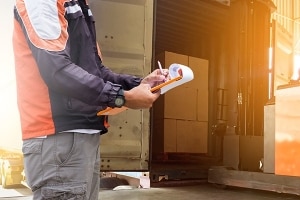 Many companies are looking for how to implement safety as an organization to their drivers. A study conducted by the National Safety Council found that if a company wants successfully adopt safety practices, it must be part of the overall culture – from the executive suites to the drivers on the road. This practice helped ensure policies and practices were carried out.
As part of the research that went into the report, nine truck carrier companies were monitored as they made changes to their safety efforts.
·         Executives must be bought in to the approach to safety – this means buying quality equipment, tools and investing in programs like driver training and education.
·         Safety culture adopted as a way of life – organization culture that stems from safety goals for drivers, technicians, managers and human resource agents creates a standard for operating.
Solutions and tools to improve safety:
·         Camera technology – adding cameras within the cab to capturing forward- and rear-facing angles can be beneficial. While there are critiques to implementing rear-facing cameras, companies who use them for training and education purposes have seen a strong lift in driver safety compliance. Forward-facing cameras can benefit an organization in an accident scenario to exonerate fault.
Article Source: www.ttnews.com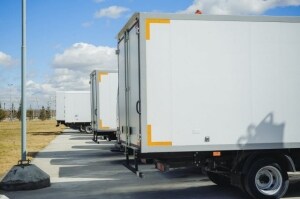 Navistar president, Friedrich Baumann shared his 2025 Vision to an audience of executives and dealers. The Vision will be a shift from doing business as usual, which Baumann described as "survival mode" to a forward-thinking "customer-centric, innovative brand" approach.
Baumann identified several key areas this shift will impact:
1. Expansion of Parts & Services
2. Improved organization communication tactics
3. Investment in technology
Navistar has been investigating multi-level and multi-department feedback and found that these areas of opportunity.
To start, Navistar plans to share feedback, data and trends as part of an "aftersale" initiative to help improve the performance between dealers and customers.
One already implemented change has been to stock the right parts across their dealer inventory alliance network which helps with predictive stocking and less wait time for technicians and customers.
Navistar plans to open a new parts distribution center near Memphis, TN, which is also a FedEx shipping hub to expedite time to dealer centers nationwide.
Finally, as part of their infrastructure changes to improve innovation and experience for their customers, Navistar announced an agreement with Love's Travel Stops that allows these trucking facilities to handle parts warranty work. 
Article Source: www.fleetowner.com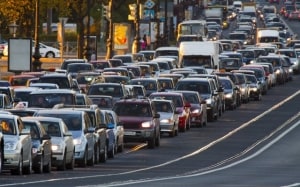 The 2019 Urban Mobility report was published by the Texas A&M Transportation Institute (TTI) showing that traffic and congestion across major markets in the U.S. has been steadily getting worse since the 1980's.
TTI identifies several contributing factors to increased congestion and ways to alleviate a more balanced system. Their findings also share various ways congestion costs Americans and businesses.
Facts related to Congestion:
·         More American have jobs and are commuting to work. Unemployment is at an all-time low, in 2016-17 the economy added 1.9M jobs.
·         The average person spends 54 hours per year in traffic. Commuters' time on the road has tripled since data was recorded in 1982.
·         Congestion delays equate to a cost of $1,010 per person per year.
·         Roadway infrastructures have not kept up to meet the new traffic and workforce demand.
·         Fuel consumption for those who drive through gridlock or heavy congestion is significant. It's estimated through the report findings that 3.3 Billion Gallons of fuel are wasted per year.
·         Manufacturers and carriers account for 7% of roadway traffic, but pass on the timing delays they experience to consumers.

The report gives an in-depth examination of 494 urban areas in every state and Puerto Rico, online.
Article Source: www.fleetowner.com
             Company News: Enterprise Holdings Focusing on Duty of Care, Innovation Technology and Customer Experience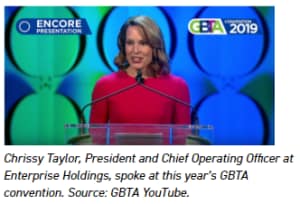 ST. LOUIS (Aug. 28, 2019) – Enterprise Holdings' conversations and presentations at this year's annual Global Business Travel Association (GBTA) convention focused on three critical issues: duty of care, innovative technology and customer experience.

The 2019 GBTA convention, held in Chicago, drew a crowd of more than 7,000 travel professionals and industry leaders. And its theme – "Evolve" – clearly recognized how business travel is being redefined and transformed by emerging technologies, noted speaker Chrissy Taylor, President and Chief Operating Officer at Enterprise Holdings, which owns the Enterprise Rent-A-Car, National Car Rentaland Alamo Rent A Car brands.
In fact, according to the GBTA 2018 Omnibus Survey, 80% of respondents said safety, service and technology were among the most important factors when selecting a ground transportation partner. "Those three factors also represent the underpinnings of duty of care in the travel industry," said Taylor during her remarks. "So we are continually working and evolving to meet those responsibilities and demands."
For example, several of Enterprise Holdings' industry-leading business travel initiatives include:
The No. 1 ranked National app, which is designed to provide business travelers with a single point of contact to manage all aspects of the rental experience.
The company's recent acquisition of Deem, which allows Enterprise to stay at the forefront of innovative solutions for the business traveler. The travel platform includes Deem Work Fource and Deem Ground Work – a suite of online booking and travel technology products for business travelers, travel managers, travel management companies and suppliers.
The National Car Rental brand's launch of "National Car and Driver," which helps business travelers to China book transportation, either directly through the Deem Work Fource application or through their travel management partner. 
In addition, Enterprise Holdings has spent more than $3 billion on acquisitions and corporate-venture capital investments or commitments in the U.S., Canada, the U.K., France, Ireland, Spain, Brazil and China. Such acquisitions and partnerships enhance services available to customers and position the company as a long-term industry leader in mobility and innovation – regardless of whether vehicles are rented by the hour, day, week or longer.
Ease & Safety
Mike Guadagnoli, Vice President of Global Strategic Sales at Enterprise Holdings, participated in a GBTA panel about "Making the Road Warrior's Journey Easier." The discussion likewise focused on how innovative uses of technology – along with wellness and data management – can benefit road warriors.
Enterprise Holdings also headlined a GBTA education panel called "What's a Woman to Do? Addressing Traveler Safety for Women on the Road." The session – sponsored by Deem – included Amanda Armstrong, Assistant Vice President of Global Travel and Meetings at Enterprise Holdings, and Tahnee Perry, Vice President of Marketing at Deem, among the panel members. They addressed the growing number of safety risks for business travelers and the responsibility of companies to update travel-risk mitigation and duty of care policies to better protect customers.
Armstrong, who manages and books travel for Enterprise Holdings employees, stressed the importance for travel, tourism and hospitality suppliers to provide resources and education to leisure and business travelers. "At Enterprise, we look for suppliers that can help lower risk throughout the total travel experience," she said during an interview at GBTA. "They need to have the technology, communication and process in place to provide duty of care throughout the traveler experience from beginning to end."
Industry Leadership
Enterprise Holdings helps organizations fulfill their duty of care promise through an unwavering commitment to vehicle safety and complete customer satisfaction. Its global network of more than 10,000 fully staffed neighborhood and airport locations – spanning 100 countries and territories – also enables Enterprise Holdings to respond quickly to customers in times of need. The Enterprise brand, in particular, offers renowned levels of personalized service, including free pickup and 24-hour roadside assistance.
Enterprise Holdings' annual revenues also place it near the top of the global travel industry, exceeding all other rental car companies, many airlines, and most cruise lines, hotels, tour operators and online travel agencies. As a result, it was an honor for Don Moore, Senior Vice President of Business Rental Sales and International Tour, to receive the distinguished GBTA Allied Member of the Year Award on behalf of Enterprise Holdings. This prestigious award recognizes Allied Members whose dedication, enthusiasm and hard work have generated significant benefits for GBTA and the industry overall.
Article Source: www.enterpriseholdings.com