Chevrolet Continues to Update Silverado Lineup
Chevrolet unveiled plans for the new Silverado HD, which will add to the existing lineup for 2020. It has been a busy year for Chevrolet; the Silverado HD is the third new truck for the automaker in the last 18 months. The new model will be available with either single and double rear wheel configurations.
The Silverado HD will attract customers who use medium- and heavy-duty vehicles for retail or commercial purposes. It is attractive for those who need towing capabilities, and for commercial users with vehicles for landscaping, agricultural and equipment hauling needs.
Prototype testing will begin in the next few months. Experts predict the Silverado HD will demonstrate Chevy's increased durability with a bolder look. Production of the first models is expected to be complete by Q3 of 2019.
Enterprise Truck Rental Solutions:
Enterprise offers a wide-variety of late-model pickup trucks. Our goal is to provide you with the exact truck you need, with all the capabilities to complete your job. We offer businesses site ready trucks with a variety of upfitted accessories. Visit our Vehicle Comparison Guide  to find the truck that will fit your needs.  
Article Source: https://www.worktruckonline.com
             
Summary from the CVSA Brake Safety Symposium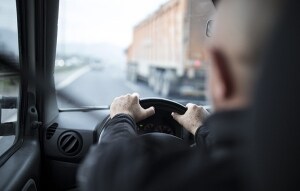 The Commercial Vehicle Safety Alliance (CVSA) hosted a 2-day symposium on Brake Safety education and training for motor vehicle operators. Topics included brake technologies, regulations, inspection procedures, tools and maintenance.
The symposium was held as a result of several studies highlighting the need for education.
Attendees ranged from operators, maintenance personnel, regulators, and law and safety enforcement agencies. Together groups discussed the importance of vehicle safety inspections, proactive maintenance and safe operations. The goal was to work together to reduce the frequency and severity of roadway incidents caused by braking systems on commercial motor vehicles.
The CVSA reports that: 
·         Over half of the vehicles used for commercial purposes are out of service are due to poor adjustment and brake system violations.
·         In 2006, The Federal Motor Carrier Administration found that 29% of all crashes were due to improper brakes.
Article Source: https://cvsa.org
             Tips to Help Ace a Roadside Inspection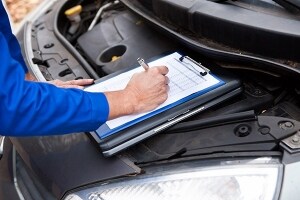 Drivers and inspection officials benefit from quick, incident-free roadside inspections. Typically, inspections occur when a driver is pulled over or when a truck stops at a weigh station. If drivers are unprepared, inspections may result in citations and costly delays to the delivery schedule.
There are five tips experts offer drivers and operators to prepare and ace a roadside inspection.
1.    Operate your truck according to the Hours of Service (HOS) rules.
The Federal Electronic Logging Device (ELD) Mandate requires all HOS logs be digital. If a driver is not using a proper device and logging system, it could warrant additional inspection. Managers must discuss the proper way to use Hours of Service logs with their drivers, and demonstrate the correct process for logging hours according to the ELD Mandate.
2.   Understand how to use and access your electronic logs on your device.
Drivers must know the difference between ELD devices and AOBRDs (automatic onboard recording devices). An AOBRD is older technology that is permitted until December 2019. ELDs transfer data by Bluetooth connectivity, email or web service, where AOBRDs do not.
AOBRD drivers who are asked if they use electronic logs may respond "yes" to the inspector's question, but will have no way to transfer data. This may result in a "malfunction citation." AOBRD vehicles may carry letters from their provider to show that they comply.
3.   Know how your ELD or AOBRD systems work.
Educating drivers on how to access data during an inspection is critical. Appoint a person in your organization to familiarize drivers on what to do and how to find requested items during an inspection. Add mock inspections to driver training and education requirements.
4.   Always conduct vehicle inspections before every trip.
Perform routine vehicle inspections before every trip to prevent on-the-road events that may lead to a driver being pulled over. Drivers can ensure tires are in good condition, no air systems are leaking, and lights are working. Drivers should inspect elements that may impact driver visibility. Clean windows and mirrors may indicate the vehicle has been inspected recently.
5.   Drive your vehicle safely, and legally.
Law enforcement watches for reckless and distracted driving. If the rules of the road are followed, it will reduce the likelihood of being stopped. Officers look for commercial drivers who drive aggressively, are not wearing a seatbelt, or are using a mobile device.
Roadside inspections are part of a bigger initiative to improve roadway safety, not simply to cause distress or target commercial drivers. With these tips, drivers should feel confident that if they are inspected they will feel prepared.
Enterprise Truck Rental Solutions:
Enterprise Telematics powered by Geotab is available for all our rental vehicles for companies that must comply with the ELD Mandate, or those who are wanting to find ways to run their fleet smarter, safer and more efficiently. Visit our telematics page to learn more about our program, or ask your local truck rental representative when you rent.
Article Source: http://www.fleetowner.com
             Drive a Diesel? Energy Dept. Raises Diesel, Gasoline Price Forecasts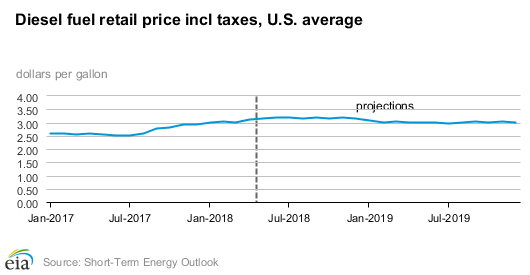 The retail price for diesel is up 6.7% from the forecast made in April 2018 by the Department of Energy (DOE). Experts say the average retail price per gallon of diesel is expected to land 9% over the original April projection, making the price $3.17 for the third quarter.
Overall, the 2018 average diesel price per gallon is expected to be $3.12, which is 6.4% higher. In 2017, the average actual cost per gallon was $2.65. Looking to 2019, it's estimated that the average diesel price per gallon will be $3.01, 3.8% higher than the original projection made in April.
Retail gasoline price per gallon rates are following a similar trend and are anticipated to hit an average of $2.91 in the third quarter. Experts noted that the price is trending 5.4% above the original forecast from the Department of Energy.
The changes in fuel prices are occurring because crude oil prices are on the rise. It's anticipated that there will be a $7 increase over the April projections to the average price per barrel, pushing it to $77. If the price per barrel remains on the rise, analysts say it would be 10.5% higher in 2018 than what was forecasted in April.
Enterprise Truck Rental Solutions:
Enterprise Truck Rental offers a universal fuel card program that offers our customers a way to track fuel related expenses through online reporting and to save up to 5¢ per gallon at participating fuel locations. Visit our fuel partner page or ask your truck rental representative for more information.
Article Source: https://www.worktruckonline.com